This trip is probably more 'Family Visit' than 'Photography'. Yes, we brought our cameras and some lenses too. Yes, both Vancouver and the BC Interior can be interesting from a photographic point-of-view.

But our expectations, photographically speaking, are quite realistic. If we 'shoot' less than have on other occasions that'll be OK.


As we walked to our gate at Pearson Airport Tom was aware of the skylights and the light in mid-morning. So out came the camera and he had an enjoyable few minutes.

Friday morning was June's day for a visit to some favourite galleries in Vancouver's 'Gastown' area. Tom took his camera and did 'Tourist' shots of a cruise ship (through an alley) and the 'steam clock' in Gastown.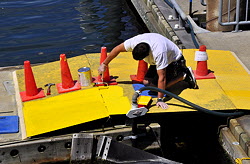 After Gastown we walked along Coal Harbour ...nice.
It was a lovely day. The photographs show some of the spectacular condos that now line Coal Harbour, the biggest damn private yacht I have ever seen, a crew member painting along the slip, a grate around a tree in the pavement and a harbour reflection.

And in the evening we had dinner with Chrstine, Guy and Alicia ... and photographed the pink dogwood in their back garden. Great dinner too!